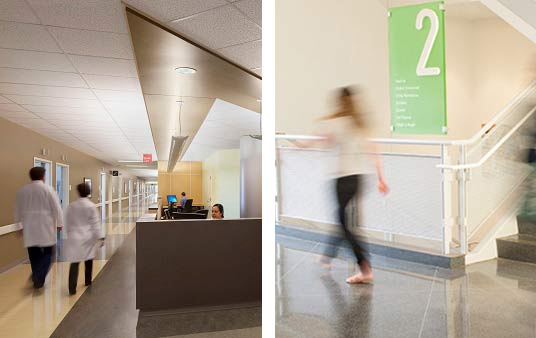 The exclusive patented technology in Paint Shield® Microbicidal Paint represents the culmination of extensive research and collaboration between Sherwin-Williams coatings scientists and expert microbiologists.
Paint Shield® doesn't just inhibit the growth of common microbes; it actually has the power to kill harmful bacteria, including Staph (Staphylococcus aureus), MRSA, and E. coli, thereby giving healthcare systems and other facilities an important new tool to help prevent the spread of these bacteria. EPA-test protocol showed that once it is applied, the effectiveness of Paint Shield® lasts for up to four years, as long as the integrity of the surface is maintained.
Paint Shield® was created with the intention of being used in non-critical areas of the hospital including patient rooms, hallways, office areas and emergency departments. Beyond health care environments, it is ideal for a variety of settings such as athletic facilities, schools, day care centers, senior care communities, residential housing, hospitality settings, and cruise ships.
Paint Shield® can be applied on interior hard, nonporous ceilings, walls, doors, and trim. It is also available in 550 colors and comes in the popular eg-shel finish.
Project Profiles Using Paint Shield®